We are a small nimble team
We are a team of designers, developers, and usability specialists who are involved in your project from start to finish. As a client, this means you'll be working directly with the people who are creating your website rather than salespeople and business majors.
Lani Chisnell
Lani leads our information architecture and design efforts at the Studio. She holds her Master's degree in Information and Library Science from the University of Michigan, and brings a breadth of experience from the world of non-profit to retail. When she's not designing, she's dreaming of living off-grid with dogs, chickens and goats.
Partner / Creative Director
T.J. Smith
T.J. brings to the team over two decades of professional experience architecting websites since graduating from Kettering University. Outside of Boxcar, he dedicates his time to Brighton Area Fire Department and the county and state technical rescue teams. His ideal weekend is unplugged on the banks of the Rifle River with the family.
Liza Wilde
Liza leads the development team at Boxcar from a technical perspective, working to help architect sites and gather requirements for projects. When she's not glued to her computer screen, she can be found exploring Washington and Oregon with her two pups, Maisie and Rhea, or playing a lot of board games and TTRPGs.
Technical Lead / Project Manager
Andy Guzman
Andy leads our development team with an extensive background in usability testing, content management systems architecture, and theme development. When his laptop is closed he enjoys sitting on the shores of Lake Tahoe with his family, playing guitar, and performing a two person version of Hamilton: An American Musical with his oldest daughter in their living room.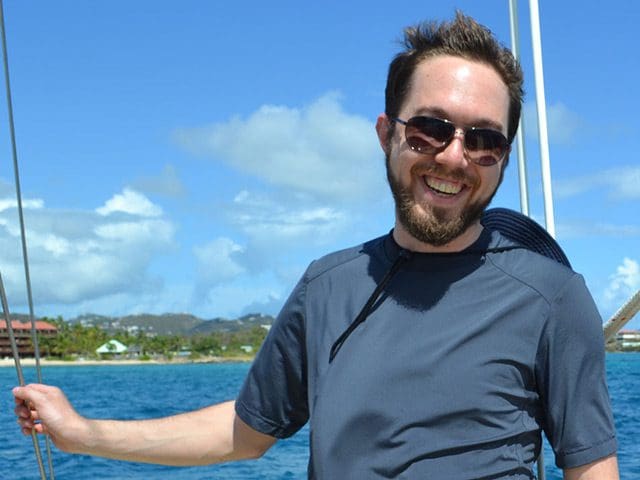 Adam Hulyksmith
Adam spent over ten years developing and maintaining websites for his alma mater, the University of Michigan, before joining Boxcar Studio. He spends most of his free time playing soccer, riding his bike, and coaxing his dog Ruby into making funny faces for the camera.
Britt Baue
From designer, to project manager, to even HR – Britt has worn about just every hat available in the marketing realm. After about a decade of dabbling, however, Britt came to Boxcar to focus on what she loves most – web design. Once peeled away from her desk, this coal miner's daughter is likely to be found tending to her indoor garden or rediscovering her roots anywhere that has a forest. 
Wendi Fornoff
Wendi has been working in digital accessibility since 2001 and as a consultant for Boxcar Studio since 2010. She has a master's degree in social work from the University of Michigan. She loves working with the Boxcar folks even though they are a bunch of coffee-drinking dog people. In her spare time, Wendi drinks tea and hangs out with her cats.
In 2019, Boxcar Studio purchased a tiny 1940s-era cottage on the Huron River. The Boxcar team handled all the renovations respecting its historic roots while bringing in modern comforts for a welcoming space.
The pandemic of 2020 saw Boxcar leave its Ann Arbor office after 16 years. The team now works remotely with the cottage functioning as our permanent headquarters.
Music we can all agree on:
dogs (except Wendi. Wendi likes cats)